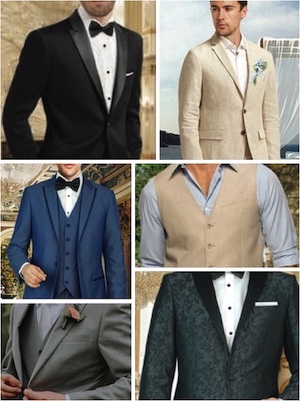 Covid-19 has changed everything from shelter-in, store closures and unfortunately those businesses who are locked up permanently. It's not just the stores it includes the manufacturers and the raw goods material suppliers. Taking this in account, that is why it is important to plan out well ahead what everyone is going to wear.
Weddings in many cases are opting to buy instead of renting as the garments will be owned by those in the Wedding and can be used in the future. Buying is preferred instead of renting and this is the reason. Owning is not much different than renting.
The next step is getting everyone in your Wedding Party to get measured early, not later! Time is of the essence to insure you get what you want. You want to make sure everyone in your Bridal Party can be fit and the sizes are available. This is part of the process.
Talk with your Wedding Party and make sure their weight isn't going to change. If there is a significant weight change and that is not communicated early, the different size garment may not be available.
If another garment has to be ordered that adds additional cost that could be avoided! It is important that your Wedding Party stays in contact and let you know if there are changes in weight which will affect the fit of the garment.
What Kind of Experience Do You Want?
At Bel Air Fashions work with 3rd generation clothiers who care and are experts in fitting your Bridal Party. If measurements are emailed, we know when a member of your Bridal Party is measured correct or not. If we receive incomplete or wrong information, we work with the individual to have them get what we need before submitting their measurements. We try to prevent delays and extra costs because they were not measured right in the first place.
You will never experience any high pressure, bait or switch. There is no nickel and diming, we deliver exactly as we promise. If you want a seamless process and one less worry planning your Wedding, that is what we deliver. We get your Tuxedos in early, make sure everything is exactly the way it is suppose to be and we are ready to deliver well ahead of your big day. Everyone will look great for your ceremony and pictures. If that is important, we welcome you.
With the expense of Weddings today you want to make sure you are getting what you ordered at the exact price you were told. You will find our quality and what we offer among the newest, modern and best in the Tuxedo Industry and our packages are very competitive, and we include our cushion insole Tuxedo Plain Toe Shoes! Our selection of vests and ties are among the largest variety in Omaha and will go with most current Bridesmaid Dresses.
---
Other Features
See actual Tuxedos and Accessories of what you are thinking about for your Wedding Party before you book, make sure this is exactly how you want the men in your wedding to look. Destination Wedding, no problem, from the Beach to the Mountains, see what we can offer. Returning Tuxedos/Suits is on Monday by Noon.
At Bel Air Fashions there is no small print, we do not over-promise or under deliver. We are the same local family clothing store owner for 3 generations here in Omaha. You have to do things right the first time. It is ethics, integrity and truth how we do business. We are here for our clients. We have spanned generations of Omahans keeping them for clients and their children's children.
Most decisions today are made by asking your peers, reading reviews and you should with anyone who you are considering to be a Wedding Vendor. There is enough stress planning a wedding, and you want to make sure you can work with those who you select and they deliver exactly as you contract and they are there for you. It is not take the money and run!
Ask your friends on Facebook and Twitter about Bel Air Fashions for wedding tuxedos. There is truly a difference. It is our attention to detail. You will recognize immediately why so many brides and grooms send their family and friends. Wedding guests love how Bel Air Fashions Garments Fit and Look and we get many referrals.
If your Bridal Party includes guests from out of town, no problem. They can use our online wedding measurement card from anywhere in the world and submit their measurements by clicking HERE.